TEAM GB ARE OLYMPIC CHAMPIONS IN TOKYO
Outstanding performances in all three phases helped Team GB seal the Team Gold medal – our first since the Munich Olympics in 1972 – with the best eventing team score in the history of the Olympics!
Heading into the show jumping, the team held a commanding lead with four fences in hand. However, as we all know, nothing can be taken for granted in our sport and there were plenty of British fingers (and toes) crossed as the action got underway.
Tom McEwen and Toledo de Kerser were the first British combination to jump, getting us off to the best possible start with a fabulous clear round. Another strong round, just one knocked pole, from Laura Collett and London 52 kept the dream very much alive and left Oliver Townend and Ballaghmor Class to bring it home.
And bring it home they did! If carrying the pressure of delivering Britain's first Olympic eventing Team Gold medal in 49 years was getting to Oliver, it didn't show. He rode a super-cool round, knocking just one pole and finishing the course with a huge 13.9 penalties in hand over the Australians who finished in Silver. The French team completed the podium, taking the Team Bronze medal.
There wasn't too much time to celebrate though, as all three British riders were lying in the top five individually and had eyes on an Individual medal to go alongside that Gold.
Individual Final
Laura and London 52 were the first of the British trio to jump in the Individual final. They had everyone on the edge of their seats as they made their way beautifully around the adjusted course. It looked for a moment as though the dream was very much alive as they approached the last two fences, but both poles fell, and they ended up completing the competition with a brilliant top ten finish in ninth place.
Tom and Toledo de Kerser were next in to jump, lying in the Bronze medal position after the first three rounds. The pair produced another outstanding show jumping round, adding just 0.4 penalties to their dressage score to finish on a total of 29.3 and guarantee themselves a medal – but what colour would it be?
Oliver and Ballaghmor Class followed them into the arena. As eventing fans across Britain held their breath, the pair set off in pursuit of another medal for Team GB but it wasn't to be – an unlucky pole and 0.8 time penalties left them in fifth.
It was a nervous wait for Tom and the British team as the last rider, Germany's Julia Krajewski and Amande De B'Neville, set off in pursuit of Gold. Just one pole down would have handed the Gold medal to Tom, but Julia and Amande De B'Neville were foot-perfect and crossed the line for Julia to make history as the first female Olympic eventing Champion.
The Tokyo 2020 Individual medal podium:
Gold
Julia Krajewski and Amande De B'Neville, Germany – Julia makes history by becoming the first female Olympic eventing Champion
Silver
Tom McEwen and Toledo de Kerser – Tom becomes Team GB's first Individual Olympic eventing medallists since Tink Cook and Miners Frolic in 2008
Bronze
Andrew Hoy and Vassily De Lassos – Andrew becomes Australia's oldest Olympic medallist, adding this Individual Bronze to the Team Silver that Australia won earlier.
Our journey to Gold
Here is how Team GB won their first Team Gold medal in 49 year-end posted the best score in Olympic eventing history!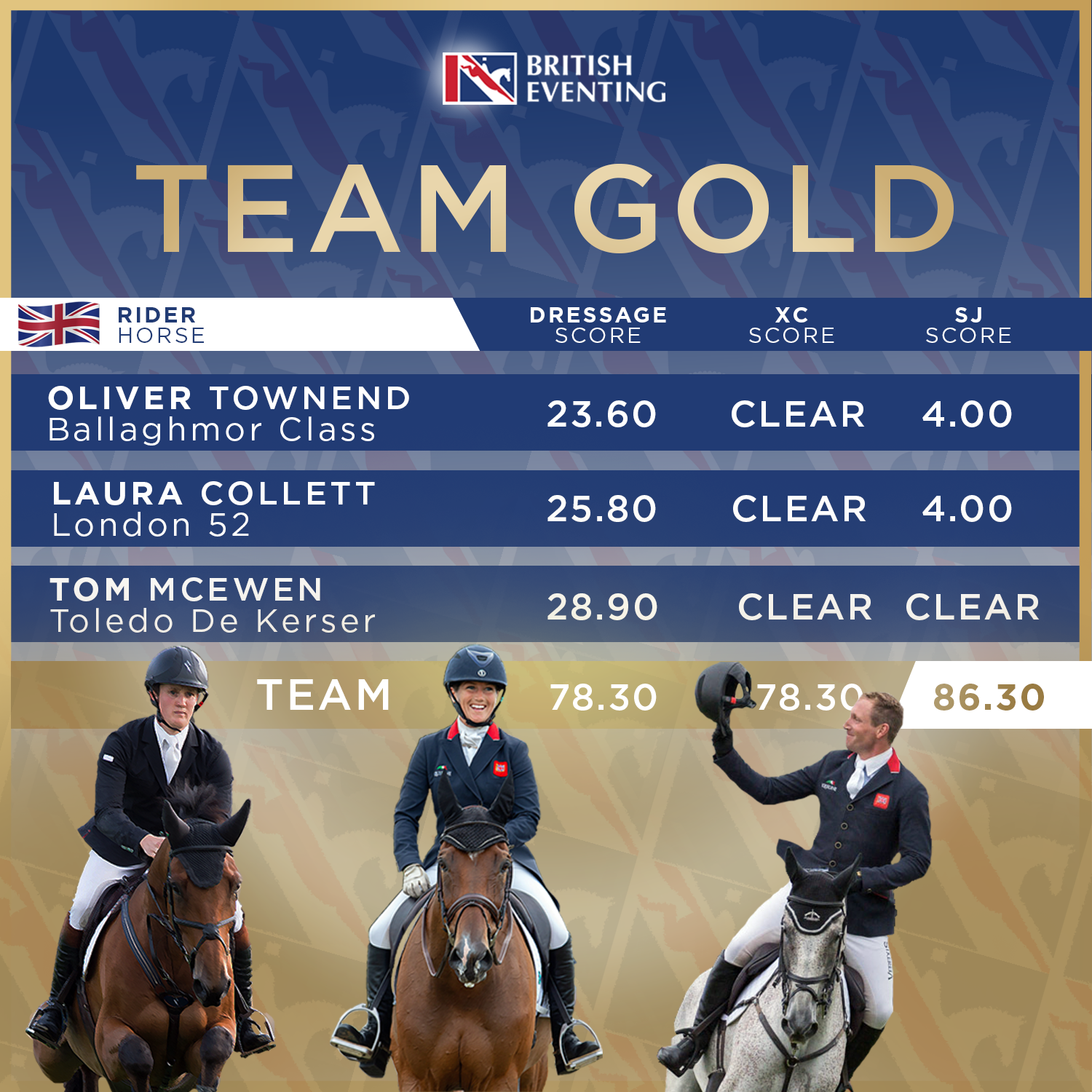 Three incredible partnerships that have done everyone so proud. Team Gold and Individual Silver for Tom and Toledo – this is a day that eventing fans will never forget.