Virbac 3D Worming training bursary winner announced
British Eventing is delighted to announce the winner of the Virbac 3D Worming Training and Technical Merit bursary as Catherine Harrington. Catherine takes home a fantastic £500 training voucher to be spent on BE training courses or training with a BE Accredited Coach, courtesy of generous sponsors Virbac 3D Worming.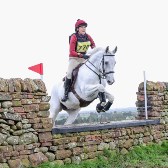 Aiming to reward riders for accurate cross country riding, the Technical Merit was awarded to BE80(T) riders across the season who attained both a double clear and finished their cross country closest to the optimum time. A total of 191 Merits were given across the events hosting BE80(T) classes this season, and all the winners were entered into a prize draw to win a fantastic £500 training bursary.
Catherine won her Technical Merit aboard her own horse Courtown Ruby, at Frenchfield (2) with a double clear and finishing only three seconds away from the optimum time, making her the closest in her section. Catherine and her 10-year-old mare completed their first BE season this year after changing disciplines from showing.
Speaking about her win, Catherine said "My mare is pure Irish Draft and we used to show but moved to eventing after a friend said to give it a go! We had a few lessons and enjoyed the jumping, and then did our first BE80(T) - my mare absolutely loves it and takes such good care of me. I can go by myself to events, and when I get nervous and can sense myself tensing up my mare looks after me and we point and kick and keep going! I've enjoyed this season so much and am really forwards to the next season - if I'm brave enough we're going to give BE90 a go and this training bursary will be absolutely brilliant to get us prepared. At BE events everyone is so friendly and helpful, and the stewards and BE80(T) coaches are always there to check on us and help if we need it!".
Rosie Naylor, Equine Technical Product Manager at Virbac UK, said "It has been a pleasure to see so many riders taking part in the BE80 (T) series this year and benefitting from the support of the Virbac 3D Worming BE80 (T) coaches. We wish Catherine many congratulations on winning this prize and look forward to seeing the progress she makes with the extra coaching that the training bursary will provide"
Find out more about the 2019 Virbac 3D Worming Technical Merit and the riders who were awarded it HERE.