TOM MCEWEN HEADS ALL-STAR CAST AT BICTON
Olympic selectors were given lots to think about — and plenty of good news — in the star-studded CCI4*-S at Bicton International Horse Trials, supported by Chedington, which featured more than 100 starters from 12 nations.
British riders longlisted for Tokyo filled the first five places after the final cross-country phase, with Tom McEwen heading a stellar leaderboard on the much-coveted jumper Toledo de Kerser, owned by Fred and Penny Barker, Jane Inns and Ali McEwen. Tom finished on his dressage score of 23.0, having finished bang on the optimum time of 7 minutes at the culmination of a superb all-round performance.
Kitty King put up a spirited challenge in second place on the striking grey Vendredi Biats, finishing two seconds inside the optimum cross-country time and a mere 0.1 off the winning score.
The world champions Ros Canter and Allstar B made it look easy in third, also remaining on their dressage score, of 24.6. Laura Collett's run of brilliant form continued with fourth place on London 52 and the world number one Oliver Townend was fifth on his dual Kentucky winner, Cooley Master Class.
The stylish Australian horseman Christopher Burton, who is based at the Dorset yard of the sponsor, Chedington, was, appropriately, the best-placed non-British rider, sixth on the mare Quality Purdey.
There were 40 clear rounds, with nine inside the optimum time, and 66 completions from the 89 cross-country starters.
Tom, 30, who is based at Gatcombe Park in Gloucestershire, has competed Toledo de Kerser, a 14-year-old Selle Francais gelding, at international level for seven years, winning team gold at the 2018 World Equestrian Games and the CCI5*-L at Pau, France, in 2019.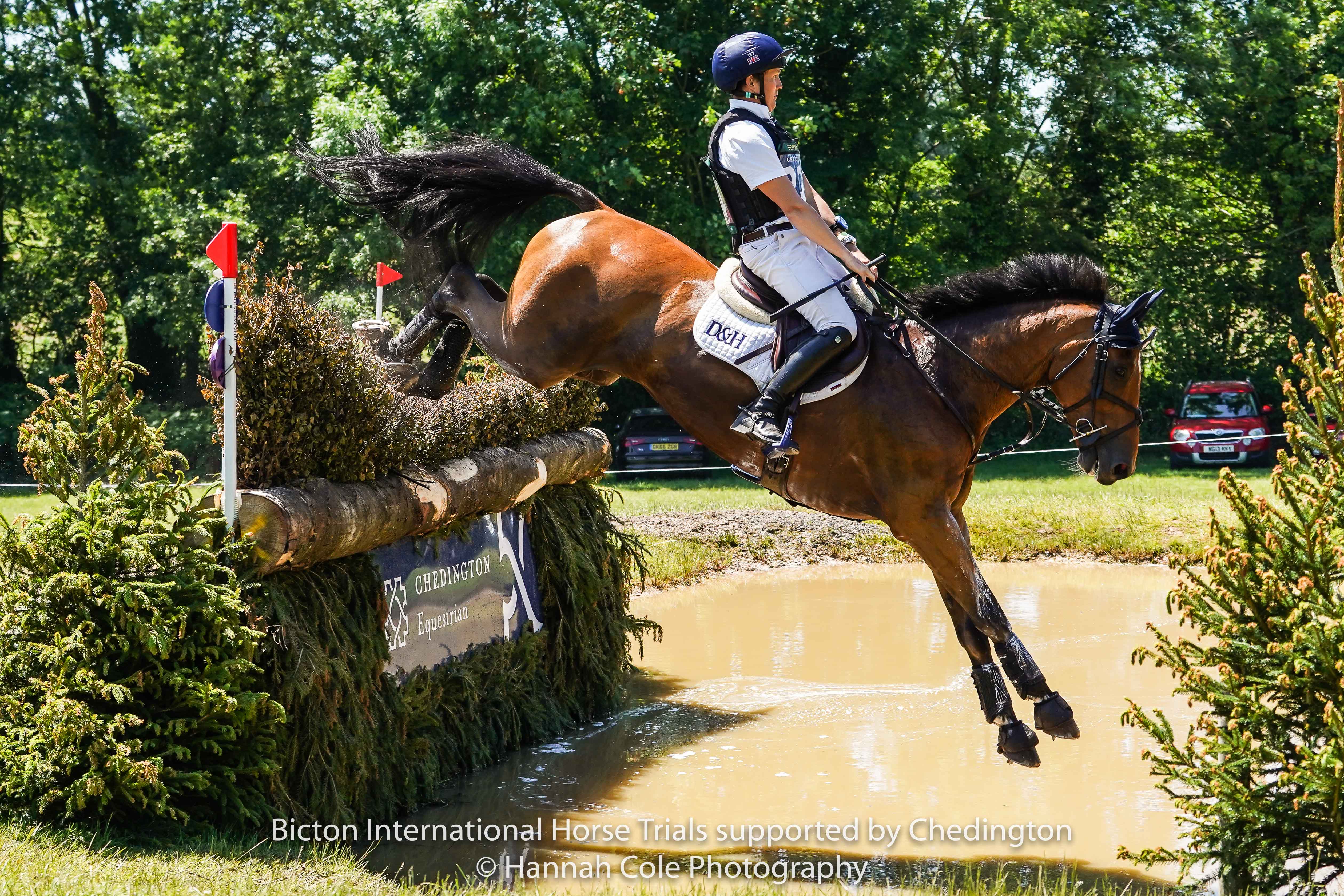 Tom and Toledo de Kerser on their way to winning the CCI4*-S
"I am thrilled to bits," said Tom. "I've had several rides this weekend and to pull off such an important result on this horse is amazing really, and shows how special he is."
"I was delighted with the cross-country. It was just what we needed at this point of the season — there was no hiding behind it — and the organisers had tried their utmost with the going."
Kitty King joked: "Tom could have been gentlemanly and been a few seconds slower! But 'Froggy' [Vendredi Biats] felt brilliant; he has become so much more consistent in the dressage, which is exciting. I couldn't be more proud."
Ros Canter's 16-year-old "Albie" is coming to form at exactly the right moment. "It's been a long three years for him," said Ros, a reference to the birth of her daughter in 2019 and then the pandemic. "At the start of the season, he was a little lethargic, but now he really wants to be here and not in the field."
The Bicton team, led by Helen West, organised this sporting bonanza in just seven weeks, and thanks are due to the Horse Trials Support Group and Event Horse Owners Association, who both provided funding towards upgrading the cross-country, as well as Chedington, whose invaluable support made a CCI4* at this much-loved Devon fixture possible.
"Chedington is delighted for Nicola Wilson, Tom McEwen and Bubby Upton who showed excellence in all three phases to claim the three titles in our first partnered event with Bicton," said Dr Geoffrey Guy of Chedington.
"Chedington Equestrian are passionate about creating opportunities for horses and riders to train and compete under the best conditions and, this weekend, Bicton has provided an absolutely world-class setting for a very important fixture for horses and riders. Chedington is delighted to have played a part in this and looks forward to working with Bicton in the future to continue to be able to offer the highest calibre of events in the UK."
"What a fantastic competition we have had," concluded Helen West. "It has been an absolute pleasure to host Bicton's first 4-star. There have been some outstanding performances — huge congratulations to all the winners and thank you to all our sponsors, especially Chedington who has been instrumental in awarding our deserved winners an epic prize fund."
BUBBY UPTON IS NEW NATIONAL UNDER-25 CHAMPION
The future looks bright for British eventing after a sparkling performance by the three young riders heading the CCI4*-L u25.
Bubby Upton emerged the winner — and the national under-25 champion — on her cross-country runner-up Cannavaro, with Heidi Coy second on Russal Z and Yasmin Ingham third on Banzai du Loir, the least experienced of her three rides. The trio received many plaudits for their sympathetic horsemanship throughout the weekend and look set to be stars of future senior British teams.
Bubby, 22, had sealed her victory on her mother Rachel's Dutch-bred, 14-year-old Cannavaro by the time she was last to go on her cross-country leader, Cola lll, who hit three fences to drop to fourth.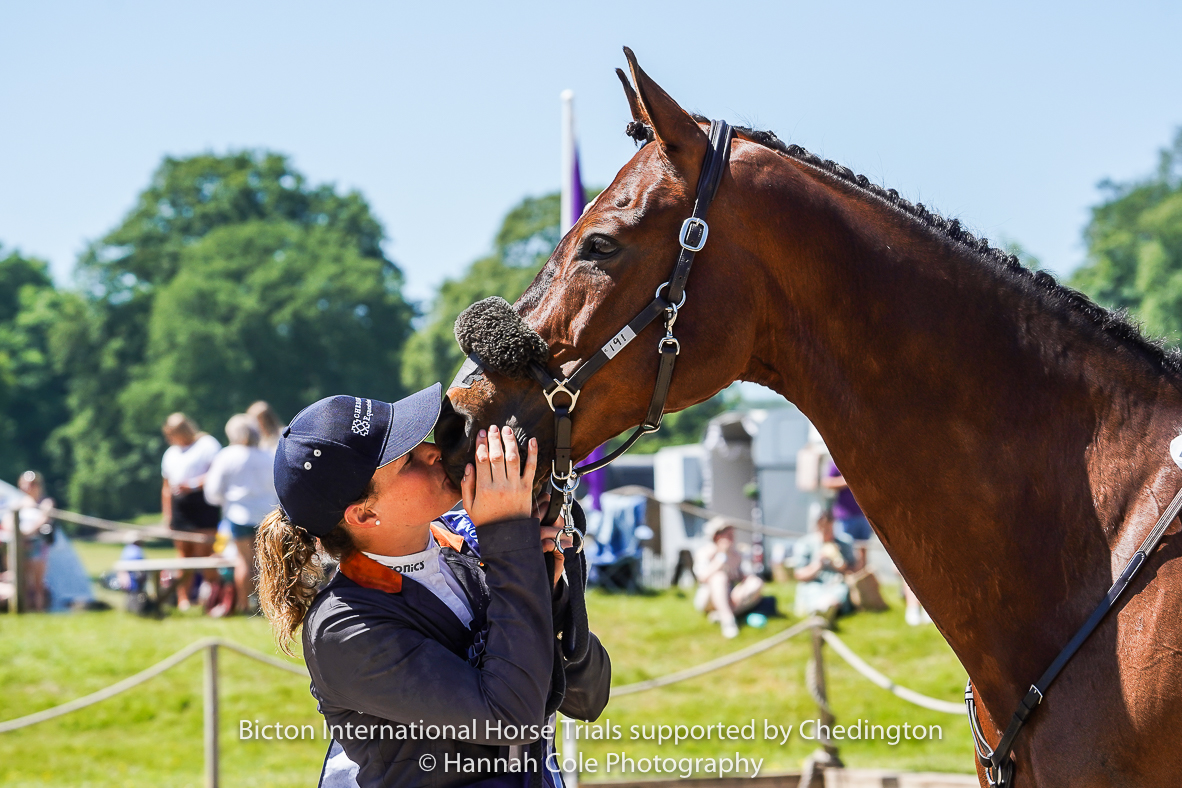 Bubby Upton celebrates national under-25 win with Cannavaro
"I'm finally a British champion!" said Bubby, who is a former Junior European Champion and a much-medalled member of Britain's youth teams. "Six times I have been in the lead for a national title, but never won it.
"Cannavaro is a class jumper and this shows he's got a future. He has a heart of pure gold. Cola was just a little bit flat, but it's his first mistake this year."
Heidi Coy, 21, admitted that the journey back to her home in the Vale of Belvoir in Leicestershire would seem that little bit shorter after such a successful week, with three horses in the top 14.
"She's only little, but she's feisty and she answered every question," Heidi said of David Ottewell's nine-year-old grey mare, who showed early promise with 15th place in the prestigious Young Horse Championships at Le Lion d'Angers, France, in 2019.
Yasmin Ingham, 24, was full of praise for her youngster, Sue Davies and Janette Chinn's Banzai du Loir: "For him to jump like that after the cross-country we had yesterday was fantastic. It shows he's got a huge future."
NICOLA WILSON AND JL DUBLIN ARE THE STARS
Nicola Wilson looks to have another star in the making with Jamie and Jo Lambert and Deirdre Johnston's JL Dublin, a horse that shone in all three phases of the CCI4*-L.
The pair led from the start, sealing victory in the best possible style with an immaculate clear show jumping round in which Nicola had no margin for error.  Although Piggy March and Vanir Kamira, the second last to jump, went out of contention with an unlucky four rails down, the pressure was still on: Ros Canter and her rising star Lordships Graffalo, the runners-up, and Gemma Tattersall on Santiago Bay, third, had both already performed beautiful clear rounds to clinch the British one-two-three.
In fact, it was a British top 16, with France's Arthur Duffort the best of the many overseas riders in 17th. Kirsty Chabert (nee Johnston) was fourth on Classic Vl, Laura Collett was fifth on Mr Bass and Sarah Bullimore finished sixth on Courouet.
Gemma Tattersall, the only rider to have two horses home inside the optimum cross-country time, was also seventh on Chilli Knight.
Nicola Wilson has won European and world team gold and an Olympic team silver medal on Opposition Buzz, plus European team gold and individual bronze in 2017 on Bulana, with whom she is longlisted for the Tokyo Olympic Games. She bought JL Dublin as a four-year-old at the Holsteiner sales in Germany; the pair have been placed at CCI4* level at Bramham in 2019 and at Burnham Market last year.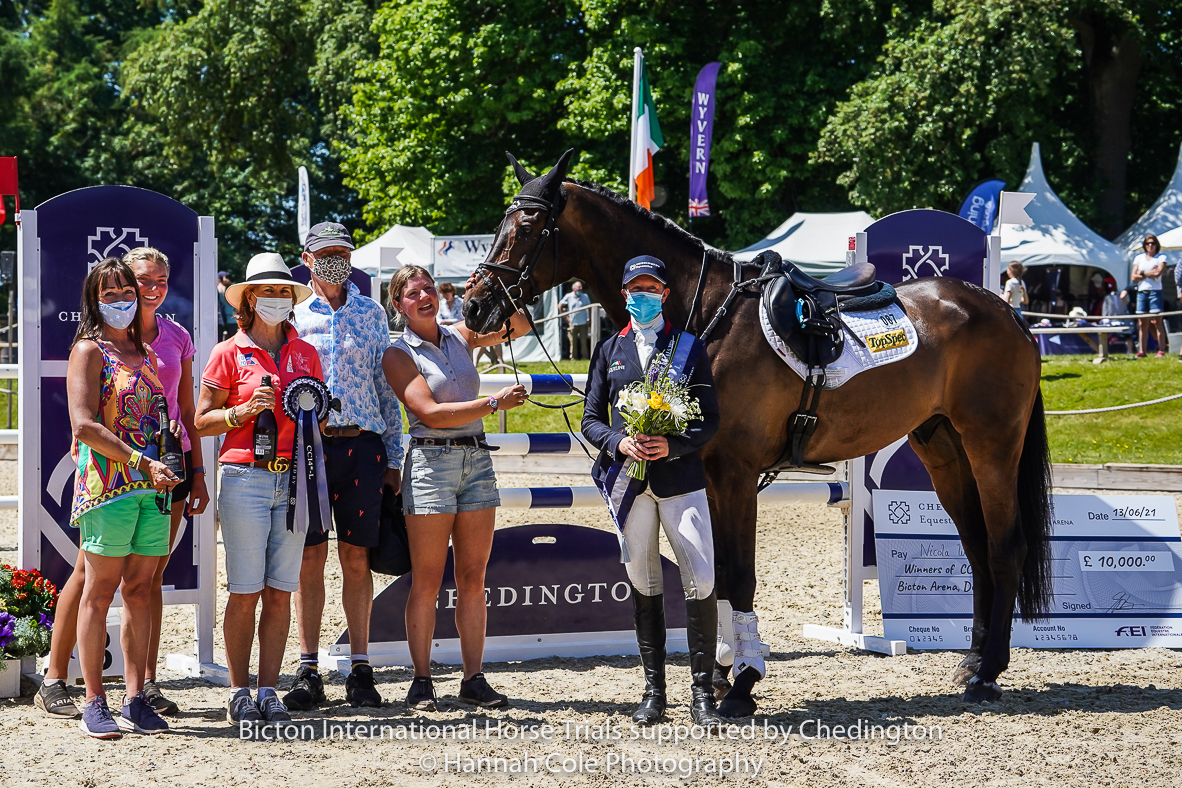 Nicola Wilson and star in the making, JL Dublin
"JL Dublin normally gets very excited and squeals in the warm-up, but today he really had his brain in gear and I thought and hoped that this might be our day," said Nicola, who was keen to heap praise on the organising team at Bicton Arena. "They have done an amazing job all round, from the cross-country course to the arenas and footing."
There was a sad postscript to the competition, as it was announced that Hendrix, a 9-year-old chestnut gelding, ridden and owned by Holly Needham (GBR), was humanely euthanised by the vet as a result of a fatal accident at fence number 15, a roll top, whilst competing in the CCI4*-S on Sunday. Holly was uninjured in the incident. Our condolences are sent to Holly and her team, the owners and all connections.
For full results, visit www.eventingscores.co.uk
A replay of the action is available through the BETV Channel on www.horseandcountry.tv. Don't forget, BE members get 15% discount on subscriptions to this channel throughout June - check your inbox for the code!