The Barbury 4* King… Andrew Nicholson does it again!
Andrew Nicholson claimed yet another CCI-S 4* crown at the FEI Barbury International Horse Trials this weekend (8-11 July), taking him up to an outstanding total of SIX wins in this highly sought-after class.
This year's success is his second consecutive win with the lovely grey, Swallow Springs, owned by Diana and Paul Ridgeon. The clock was proving quite a challenge for the cross country, but a Nicholson masterclass saw the pair return closest to the optimum time, completing on a score of 39.3 to take the title.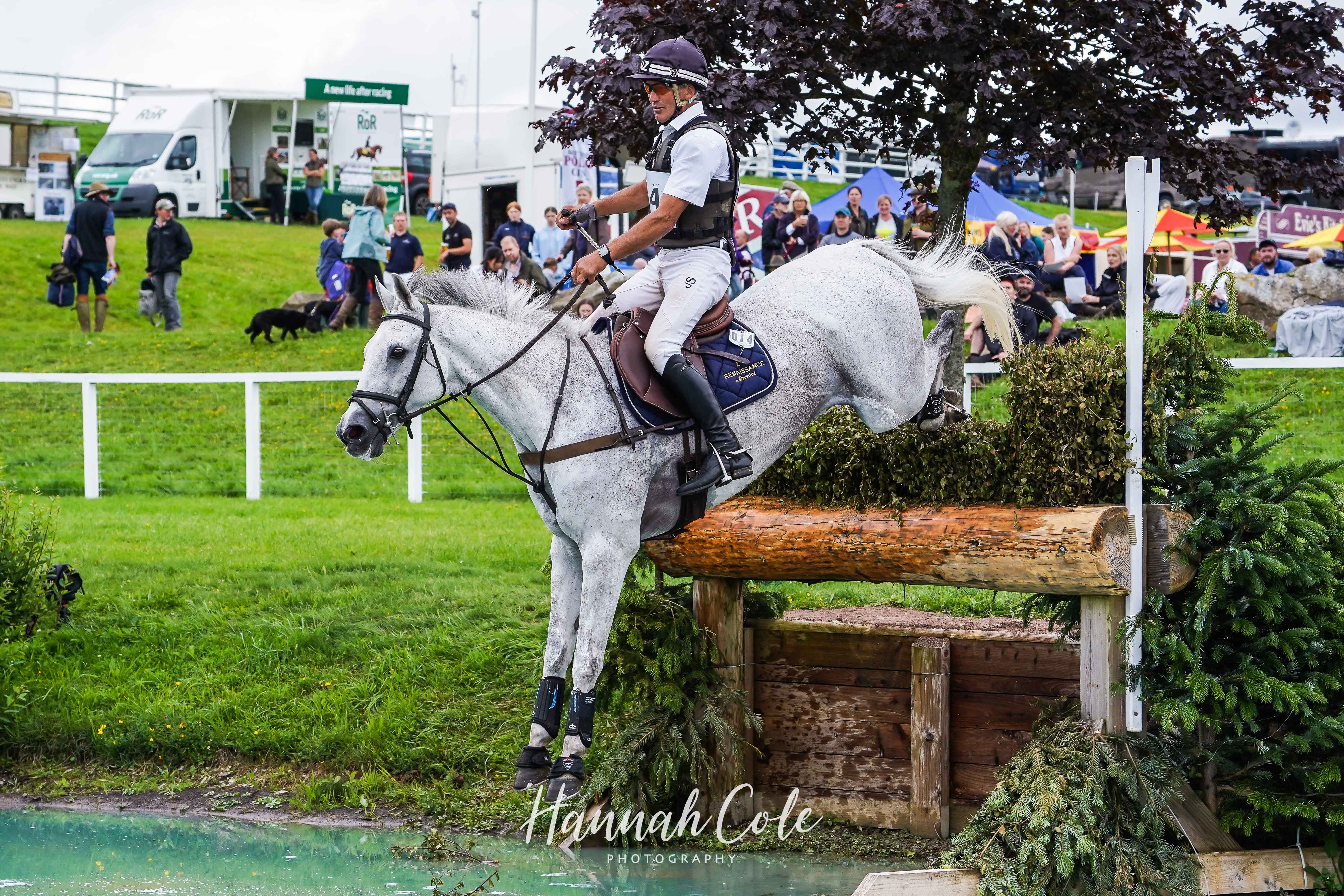 Andrew Nicholson and Swallow Springs (Hannah Cole Photography)
"From win number one to win number six it all feels very good," said Andrew. "I like coming here; it's my local event. The ground's always beautiful and Swallow Springs felt superb going around here today. 
"With these older horses that you've trained from the beginning and competed, it's very rewarding. It makes my job very easy to be able to go fast on a horse that you know knows his job. He knows what I want, he knows what every fence looks like and enjoys doing it."
The journey down from Scotland was made worthwhile for Wills Oakden, who finished second with Macgregors Cooley (41.3), and Fiona Kashel enjoyed a good weekend with three horses inside the top 12 – the best being Drumhowan Black Magic in third (also 41.3 but a slightly slower cross country time).
It was a first 3* win for Alexandra Farrar-fry and Dr Marium Haque's Grey Finnsky in CCI-S 3* Section B – and the smile on Alexandra's face and the cheers from her connections said it all. The pair performed strongly in all three phases to complete on a score of 32.1.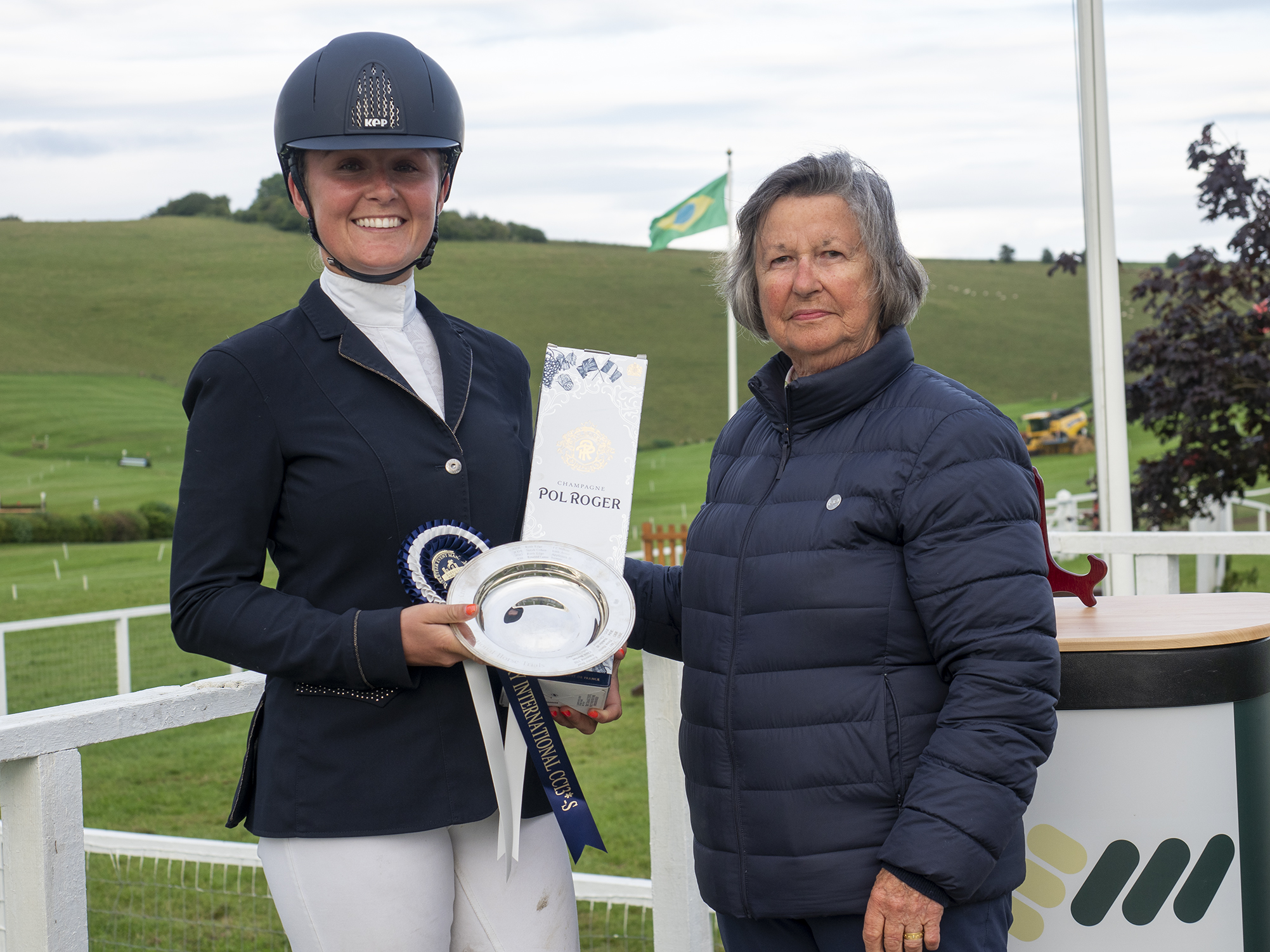 A first CCI-S 3* win for Alexandra Farrar-fry
"I never expected to win a three star in my life," said Alexandra. "He's just been phenomenal. He's gone double clear and done it in style, so I'm very, very happy!
"He had all of last year off because he fractured his pedal bone and fractured his jaw, so this is actually his return to eventing this season. He won the CCI-S 2* at Belsay and this is only his third CCI-S 3* and he's won, so he's on the up! It's very exciting."
Jo Rimmer and Lisnaught Lady Cruise posted one of the fastest cross country times of the day to finish in second on a score of 33.9, just ahead of Daisy Berkeley and Ballinteskin Cooper S - who finished on the same score of 33.9 but were not quite as quick on the cross country.
In CCI-S 3* Section C, Sarah Bullimore took the honours with Christopher and Susan Gillespie and Brett Bullimore's, Conpierre. The combination put in a commanding performance from start to finish to complete on their dressage score of 22.9.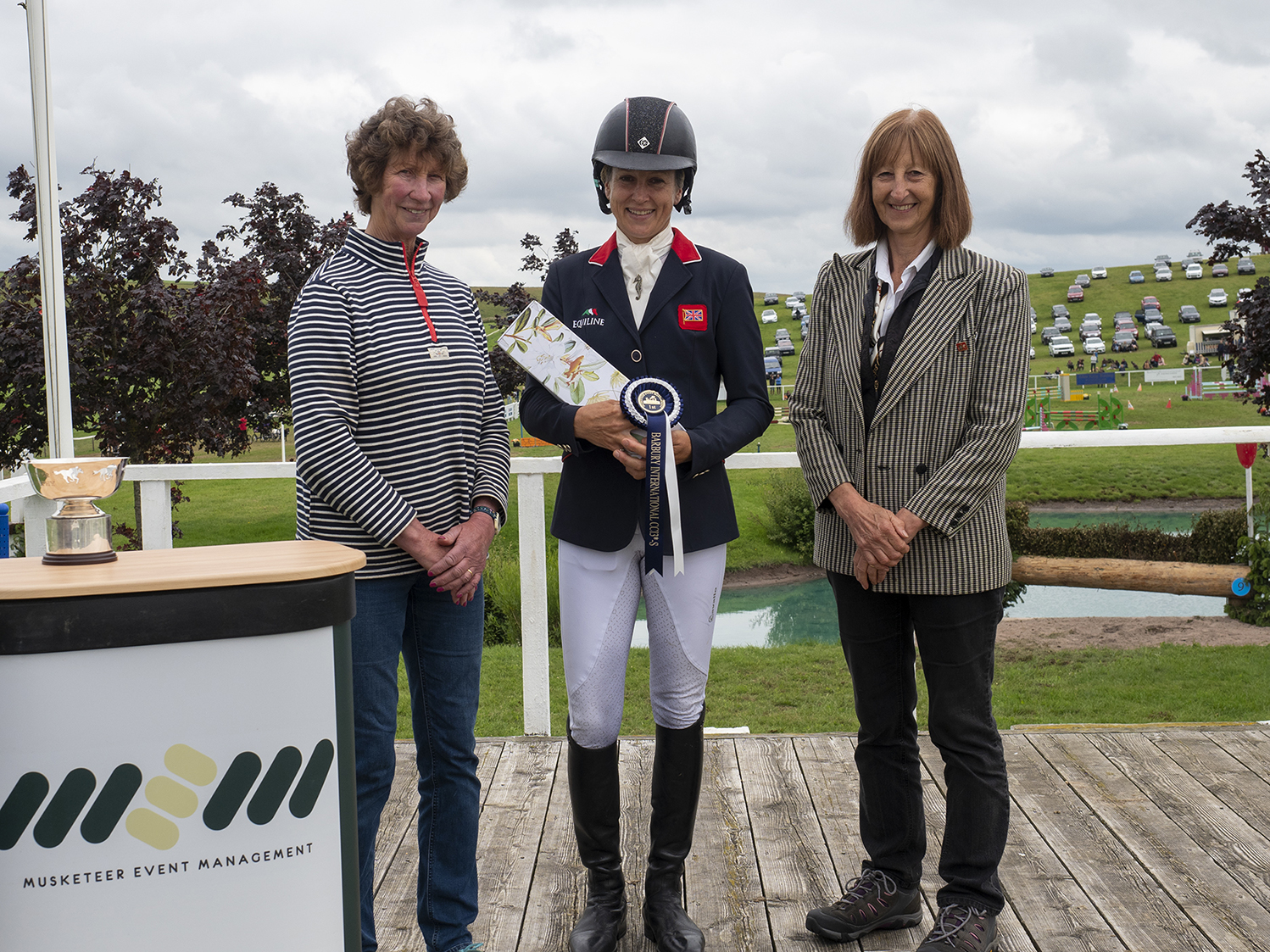 A win in CCI-S 3* Section C for Sarah Bullimore and Conpierre
"Conpierre is a 14-year-old that we've had a long while and he's been a fabulous horse," said Sarah. "He can be quite cheeky and he was squealing as he went around the warm-up in the dressage and show jumping, but I'm really pleased with him today as he's been fantastic and did manage to keep a lid on his excitement! He had a great run cross country, so it's been fabulous to actually have that under his belt."
Fred Powell took second with Grafiba after an eye-catching cross country round (28.2) and Alexander Bragg completed the top three, with Shannondale Aristo (29.7).
In the national classes, the Barbury team was delighted to host the first running of the Novice Masters, a brand-new British Eventing competition for combinations competing at Novice level to aim for. This competition proved extremely popular and was hotly contested throughout the weekend. In the end, less than one penalty separated the top three, with Harriet Ford and According to Archie (26) taking the win, ahead of Saskia Davies and Singing Usk (26.3) and Ellie Ormrod and Keyland William (26.9).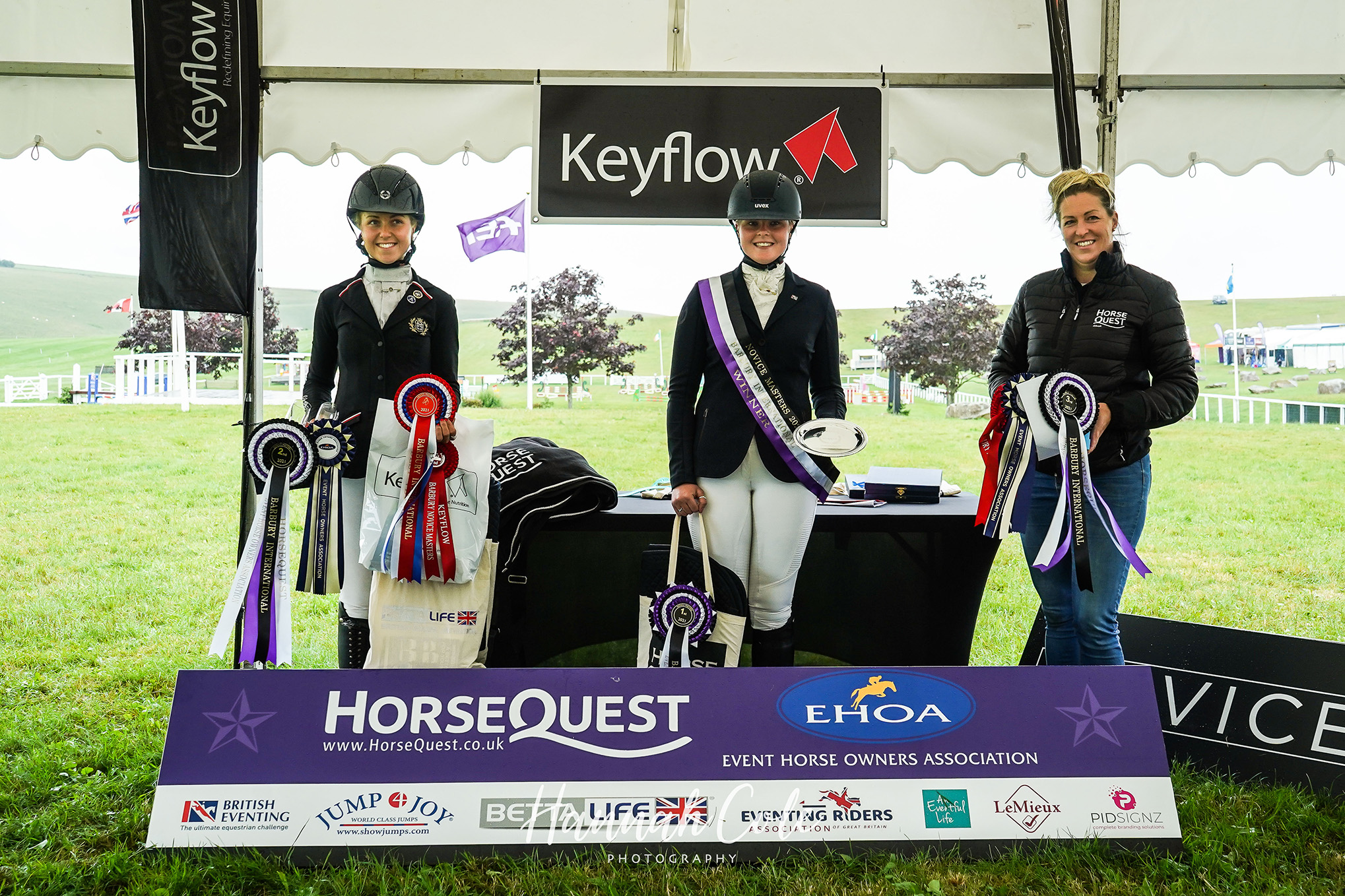 Novice Masters winner, Harriet Ford (centre) and second-placed Saskia Davies (left) receive their prizes from Tara Williams (right). Image, Hannah Cole Photography
"The whole experience of doing the Novice Masters was amazing," said Harriet. "The fact that I could do my dressage in tails, it just had such a great feel, especially being here at Barbury.
"The Novice Masters is a great thing for people coming up through the levels and especially for someone like myself – I am trying to get more owners and some more rides, so it is really good to have this success with a home-produced horse."
It was also a great weekend for Olive Nicholls, who took the honours in the Pony Trial (Section M) with her lovely pony, Kingston David and third place in the RoR Retrained Racehorse Eventing Championship (Section J) with Gods Ground. The daughter of Champion National Hunt Trainer, Paul Nicholls, Olive hopes to combine eventing with point-to-point riding after she turns 16 later this year.
"I would love to continue eventing, definitely for a while, but I would also love to go into racing and to train eventually," said Olive. I really enjoy working with the ex-racehorses, the horse I was competing here is such a nice ride and so easy to deal with."
The overall winner of the RoR Retrained Racehorse Eventing Championship was Tara Jefferies and Good Boy Alex, who completed on a score of 30.8 after the second show jumping round – the top 10 combinations jump two rounds of show jumping in this class.

Tara Jefferies and Good Boy Alex (Hannah Cole Photography)
"I always thought he was going to be good," said Tara. "I didn't know he was going to be this good, but he just keeps getting better and better! He's my absolute best friend. I think the thoroughbreds do, in general, have a fantastic brain and once you get them on-side they've just got a heart of gold and will do anything for you."
Results
A full list of results from across the weekend are available on Eventing Scores, here.

Live Coverage
All the cross country action from Saturday and Sunday was streamed live on Horse & Country TV and is still available for H&C+ members to watch via live catch up. Find out more at https://app.horseandcountry.tv/betv.