Teamwork makes the dream work at Weston Park
There were plenty of smiles and some pretty entertaining team names as riders came together to compete in the 2021 Team Challenge last weekend.
The Team Challenge is run at BE80(T) and BE90 and gives riders the chance to compete as part of a team of up to four combinations (minimum of three). Part of the fun is building the team, giving riders the opportunity to ride and train alongside existing friends or helping to make new ones. There is also the challenge of choosing the right team name!
BE80 Team Challenge Champions
In the BE80 Team Challenge it was a win for 'Winging It', the team comprising Jane Byrne, Sharron Griffith, Sophie Cocking and Joanna Royle. They finished on a team score of 95.7 ahead of the Rutland Racy Ryders 80 team in second (100.3) and the Connies and the coloured team in third (100.8).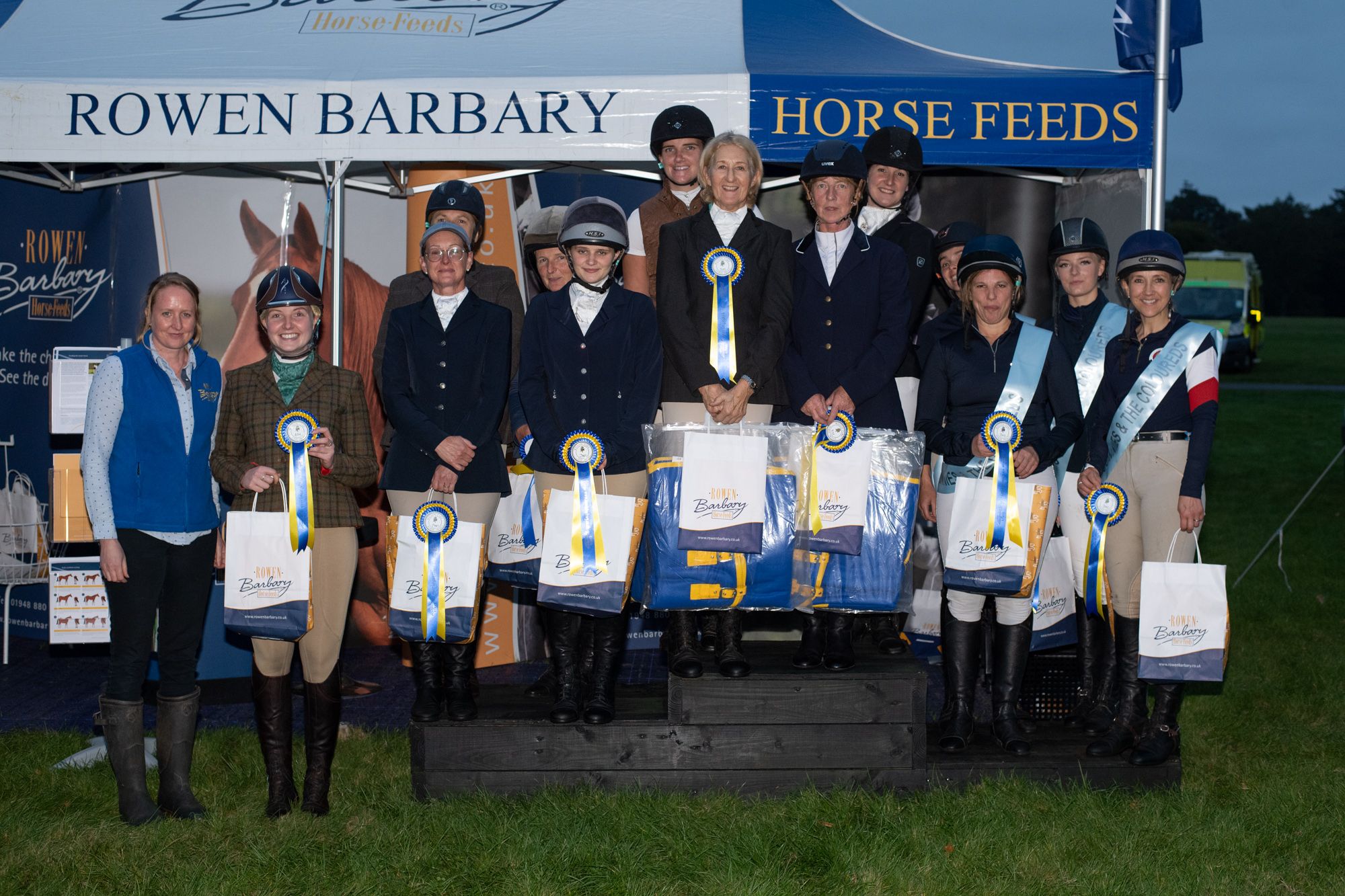 BE80 Team Challenge prize winners 2021. Image, Adam Fanthorpe
Sophie Cocking also finished second individually with her nine-year-old gelding, Galphays Pride. "I had an absolute blast in the team competition at Weston Park," she said. "The weather and venue were perfect and having support, encouragement and the team spirit made the day even more exciting and competitive.
"Galphay's Pride went perfectly, and we are over the moon that team 'Winging it' managed to pull it out the bag and win – and with an individual second as well. I really look forward to entering more team competitions next year!"
"We're ecstatic with the win," added 'Winging It' teammate, Sharron Griffith, who finished sixth individually with Mister Solo To You. "The competition provides great encouragement for riders, as you also have support of your team. The event at Weston Park was excellently run, with results so quick. Many thanks to BE for running this competition."
Jane Byrne was also a proud member of team 'Winging It', finishing seventh individually with Kennystown Lucky. She explained how the format of the competition brought them together. "We were a scratch team who hadn't met before and we got together through the East Clwyd Riding Club Facebook page. We all got there early to support each other in the various phases, which created great team spirit.
"Weston Park is a fantastic venue - the weather and the going were absolutely perfect. Dressage and show jumping went mainly according to plan and then on to the cross country, which is why we all event! It was a lovely galloping course that asked some interesting questions and was such fun to ride! I would love to do it again any day.
"The presentation was lovely and we were thrilled to be up on the podium, as we hadn't expected that! They were super rosettes and prizes too. We each drove home in a state of euphoria and were still buzzing the next day. The experience has really cemented us together as a team and we are planning to do more team events when we can."
The individual title in the BE80 Team Challenge went to Charlotte Cramphorn and Fifty Shades of Blue, competing for the Rutland Racy Ryders team. The completed on their dressage score of 27.0. Second went to Sophie Cocking from team Winging It and  Eilidh Jack and Knockbridge Drumdun took third for the Connemara Crew.
BE90 Team Challenge Champions
The BE90 Team Challenge Champions for 2021 were 'Win 4 Gin' made up of Sue Dawson, Katie Davey, Olivia McCullough and Betty Baker. Some of these Warwickshire-based ladies, who met through their local riding club, competed in the Team Challenge in 2020 - and loved it so much they came back for more! This time the win was theirs, finishing on a score a team score of 93.3. Second place went to the Mad Muckers and third to the Rutland Racy Ryders 90 team.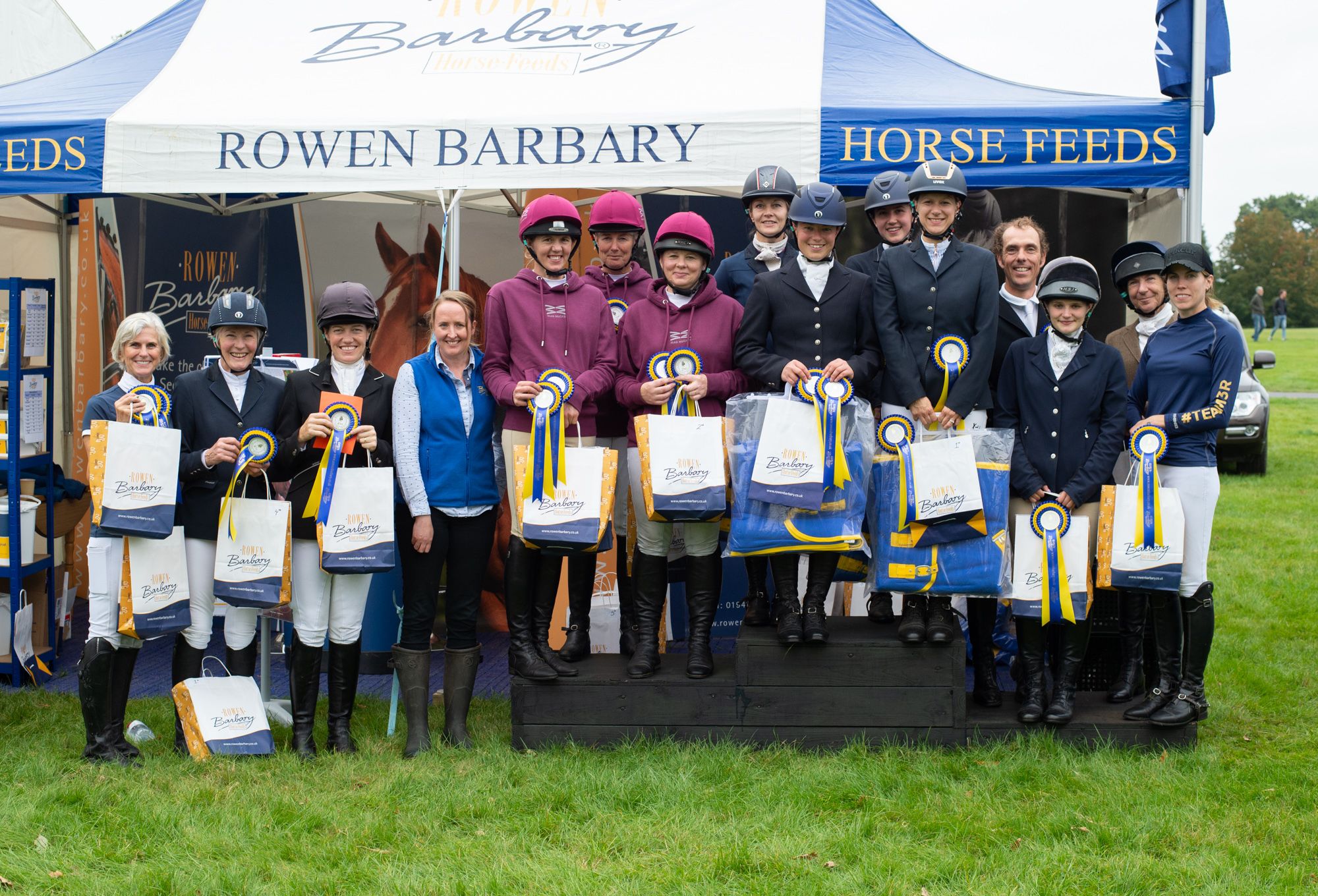 BE90 Team Challenge prize winners 2021. Image, Adam Fanthorpe
"We couldn't have asked for a better day! The weather, the ground, the courses and the atmosphere were all amazing," said team member Olivia McCullough, who also finished sixth individually.  
Olivia felt that the support the team received from friends and family really added to the day. "To stand on a podium was a real treat - as grassroots riders it was lovely to have our moment, and to do it with your friends made it all the more special. This was my first season with Leon, who was previously produced by my husband James, so I am on cloud nine to have finished it like this!"
"Absolutely brilliant day out," added Katie Davey, who finished third individually. "It was a super course asking lots of good questions with a tight time to meet, which made it competitive and exciting right until the end!"
"I just love this event," concluded Sue Dawson. "We were pipped into second place last year, so it was great to be back and take the win. Being part of a team in what is usually an individual sport for us over 18's (and some) creates a real sense of camaraderie and fun. The courses were amazing and the atmosphere fantastic. We will be back again next year!"
The individual honours in the BE90 Team Challenge went to Shirley Cadwallader riding The Sauce Pot for The Cheshire Fishwives team. They finished on a superb score of 27.80, ahead of Betty Baker in second (30.10) and Katie Davey in third (30.50).
For more information on the Team Challenge, click here.