Novice Masters success for Sara at Allerton
The stunning, undulating landscape of Allerton Park provided the perfect setting for the latest Novice Masters Competition, which was won by Sara Chittleburgh and her own, Swiss Maid.
Eventing fans in the north were treated to a great competition at Allerton Park – especially with the added excitement of a new water complex, that provided a superb vantage point for spectators. The Novice Masters is a new initiative from British Eventing, which aims to provide riders competing at Novice with an achievable new goal. As well as riding a bespoke dressage test designed especially for this class, in an international sized 20m x 60m arena with two dressage judges, Novice Masters competitors can also choose to ride their test in a Tailcoat, adding to the special feel of this occasion.
Vicky Pigg took an early lead in the dressage, posting a score of 29.5 with Faerlie Tempting. It was a few hours before her score was challenged, but by the end of the phase Fiona Denton had taken the lead with a score of 28.0 and Amy Hawley had moved into second place with a score of 28.8.
The show jumping proved to be highly influential, with only 13 clears from the 45 combinations that jumped. Tracey Barraclough had set a challenging course, with plenty to jump and lines that required accurate forward riding. The leaderboard was all change heading out to the cross country after the top three were caught out in this phase.
The cross country course set by Rob McSkimming provided a good test, with the additional water jump adding an interesting new challenge. There was lots to be gained from a good round – the top four finishers all went clear inside the time in this phase.
A super round from Sara Chittleburgh and Swiss Maid left them on their dressage score of 31.7 and, after a nail-biting wait, was enough to give them the win. Molly Brown and Gambler VD Beekzijde took second place after a well-timed cross country round also landed them the prize for the round closest to the optimum time and third went to Sally Chamberlain and Gido G. The top four were all within one penalty of each other, with Douglas Crawford finishing fourth on a score of 32.50.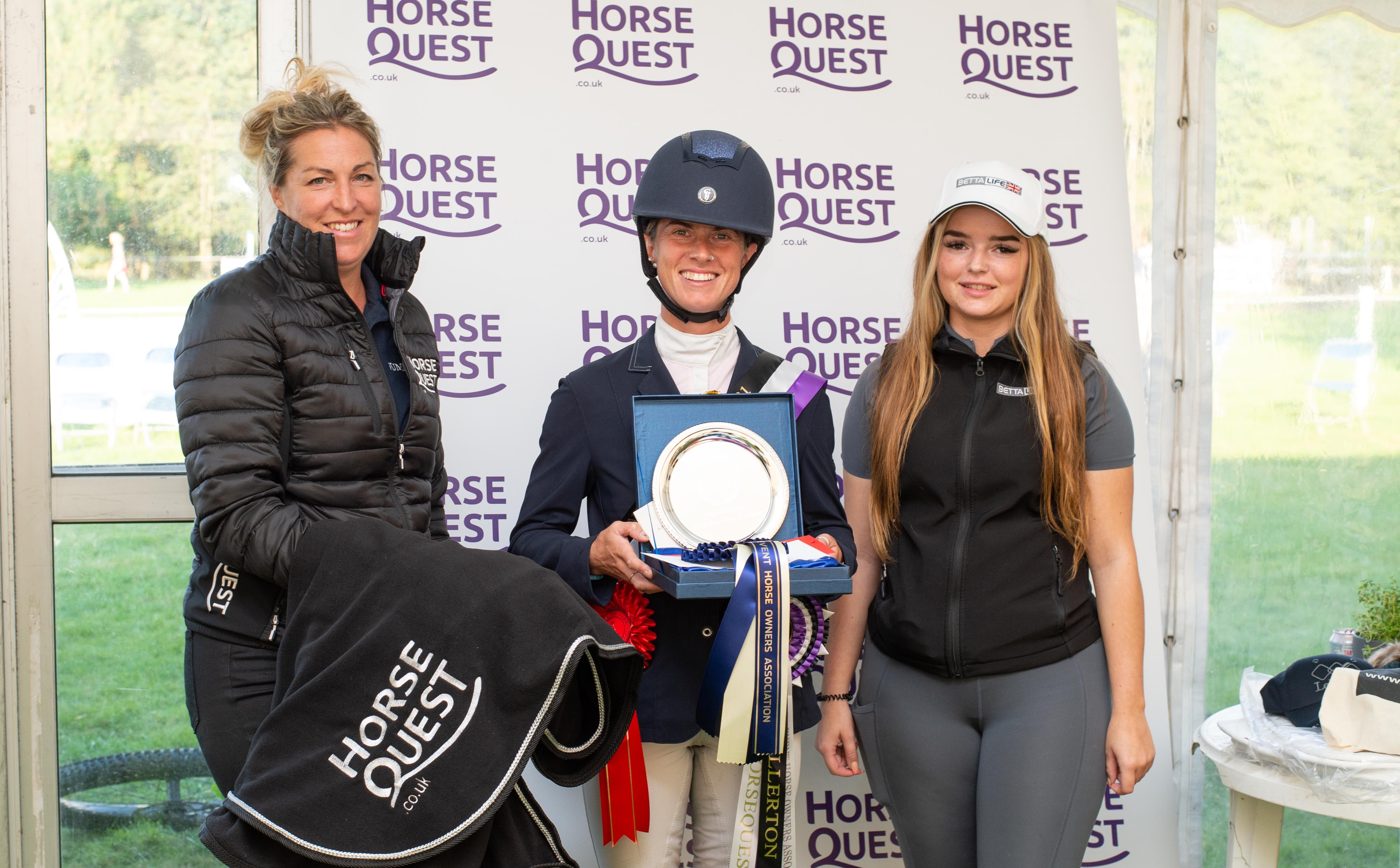 "This win means a lot," said Sara speaking after the competition. "This season has been particularly tough after losing my mother to Cancer earlier this year. I nearly didn't event this year, but I knew she would be furious if I didn't! It's just as well we did! We've had some great results this season and topping it off with this Novice Masters win was extra special
"I loved the competition! I entered to support a class that has been well overdue in giving non-professional riders a seasonal focus, purpose and recognition for their success', especially when measured against their peers.
"The Novice Restricted Championships is a fantastic initiative which, alongside the Novice Masters competitions, really gives us (non-pros) a chance to shine. This opportunity to feel recognised was truly given through the huge generosity of prizes – not only the top 10 prizes but the other prizes available, such as highest climber – to recognise the achievements of others in the competition, regardless of their final result.
"The competition is perfect for capturing the talent of non-professionals once they step beyond grassroots."
There are some fantastic prizes on offer for the Novice Masters competitions. 
Our winners at Allerton Park included:
Molly Brown - received a free video of her cross country round from An Eventful Life, for being closet to the optimum time with Gambler VD Beekzijde
Trudy Johnson - received prizes from horsehealth.co.uk for being the Highest Climber, she moved up 30 places! 
Trudy also won the £50 bonus courtesy of the EHOA - The Event Horse Owners Association for being their best placed member
Emma Carvey's mount, Rockstar VII – was the best placed veteran horse (16 or over), receiving a joint supplement and goody bag from BETTALIFE.
Fiona Denton also received goodies from BETTALIFE for the best dressage, she posted a score of 28.0 with Donau VDL.
Moving forward...
The next Novice Masters competition will take place at Weston Park on Sunday 10 October. This is the final Novice Masters competition for 2021, so don't miss out.